Blackstone 25.4 cm (10 in.) Cooling Gel Memory Foam Mattress
Enjoy a better night's sleep with the comfort and exceptional support of the exclusive 25.4 cm (10 in.) Blackstone gel memory foam mattress. This Blackstone mattress' Premium Memory Foam has Biofoam that replaces some of the traditional petroleum with natural plant oil, and includes natural green tea extract and all natural active charcoal to help absorb moisture, eliminate odors, and keep your mattress fresh. Comfort and support are provided from the 7.6 cm (3 in.) gel memory foam layer. The second layer of comfort foam conforms to the natural shape of your body, resulting in customized spinal alignment and a more restorative night's sleep. The airflow high-density base support foam layer provides long lasting durability and stability. Please open your mattress package within 72 hours of receipt and enjoy a better night's sleep that same night.
1. Luxurious Premium Top Panel
2. 7.62cm (3in) Gel-infused Memory Foam
3. 5.08 (2in) Comfort Foam
4. 10.16cm (5in) High-Density Support Foam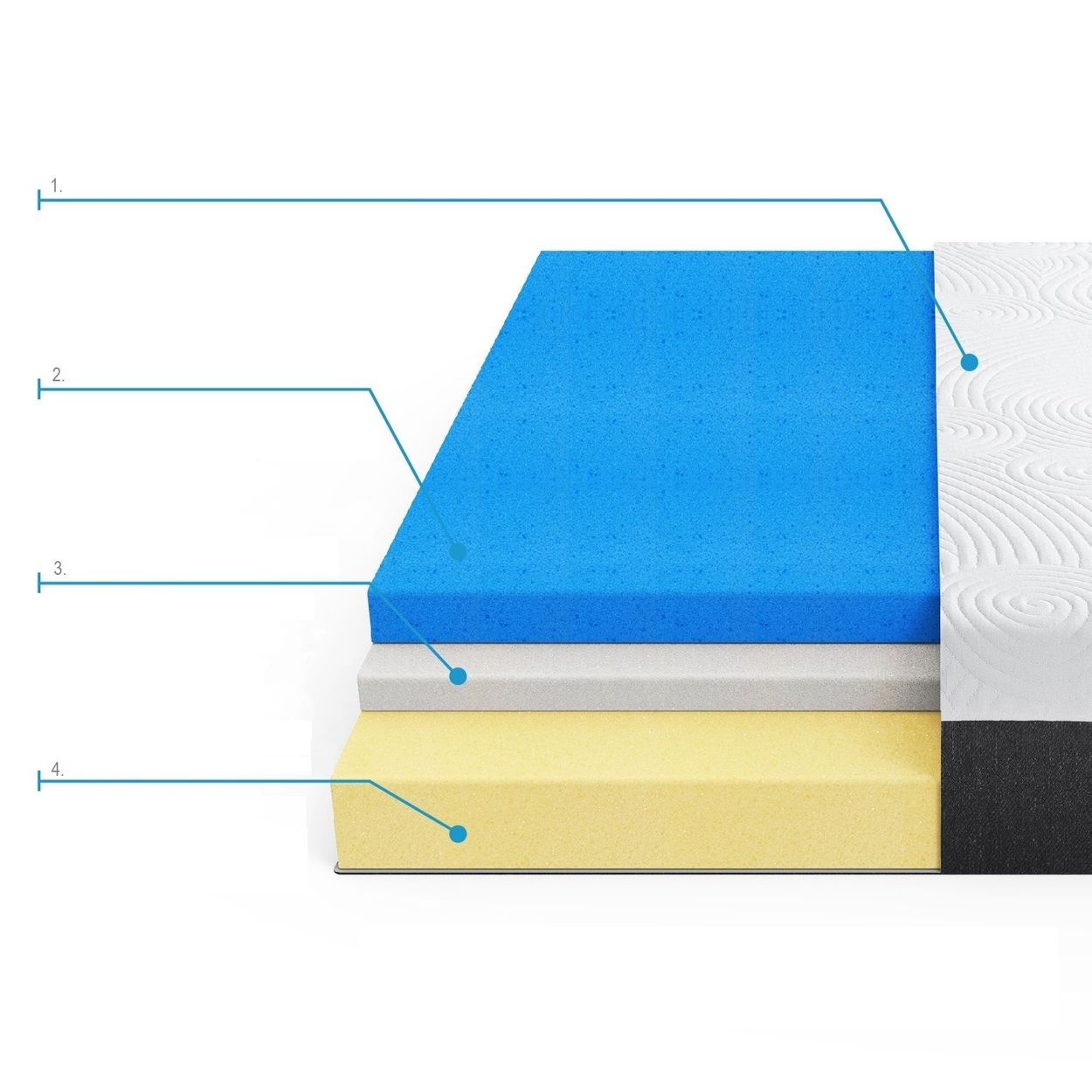 Features: 
Mattress comfort scale: medium firm
ActivCharcoal fibers neutralize moisture
BioFoam includes natural seed oil to minimize the use of petrol-based oils
Natural green tea extract in gel memory foam helps to maintain product freshness
+/- Manufacturing variance of 2.5 cm [1 in.] on the crown height of the mattress
Foam is CertiPUR-US Certified for durability, performance and content
For ease of shipping, handling and installation, mattress is compressed and packed into a box
Box spring not included
Dimensions: 
Dimensions (L x W x H) :
Queen Mattress: 203.2 cm x 152.4 cm x 25.4 cm (80 inch x 60 inch x 10 inch)
Weight : 29,6 kg (65,3 lb)

Double Mattress: 

137.2 cm x 190.5 cm x 25.4 cm (54 in. x 75 in. x 10 in.)
Weight: 25.2 kg (55.5 lb.)
Twin Mattress: 99.1 cm x 190.5 cm x 25.4 cm (39 in. x 75 in. x 10 in.)
Weight: 18.8 kg (41.5 lb.)
King Mattress: 193 cm x 203.2 cm x 25.4 cm (76 in. x 80 in. x 10 in.)
Weight: 37.3 kg (82.2 lb.)
Warranty: 10 years, limited 
For more information about this product, please contact Zinus by telephone at 1-(800)-613-1225 or by email at customerservice@zinus.com.
Model: NF18-MFG-10Q
---
We Also Recommend
---