Sojag Messina Gazebo
Product Details
Assembly Note
Although no particular part or sequence of the assembly process is difficult, consider this a project that will require approximately 6 hours with 2-3 people systematically following the assembly manual. Three people will make the project easier and more enjoyable. Members are responsible for ensuring a solid, level, well-drained site for installation

 

and anchoring. Hardware for anchoring not included. Please check with your local municipal by-laws before ordering this product.
Product Description
A Grand Gazebo for a Luxurious Outdoor Living Space

Improve your outdoor living space with the 4 season Messina Sun Shelter. It provides a shaded space to relax by the pool during hot summer days as well as a haven for friends and family to gather for a dining experience. It is at the forefront of the new wave outdoor living experience with its durable galvanized steel roof and high quality powder-coated aluminum frame. It includes one set of mosquito netting made of PVC-coated polyester mesh, which is extremely durable and reduces wind and sun exposure. The Messina will provide years of protection from the elements.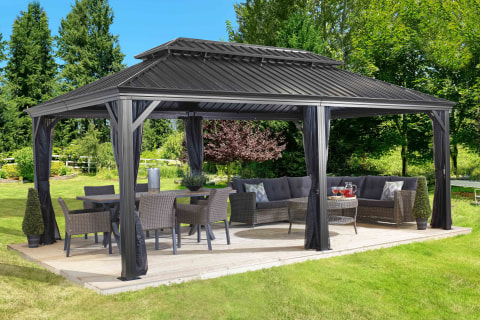 Cupola
A Cupola rests on top of the Messina gazebo, adding to the it's style. The mosquito netting 2nd tier roof allows for additional air circulation while keeping out insects.
Double Track
The double track system allows you to hang the mosquito netting on rolling hooks included with your gazebo.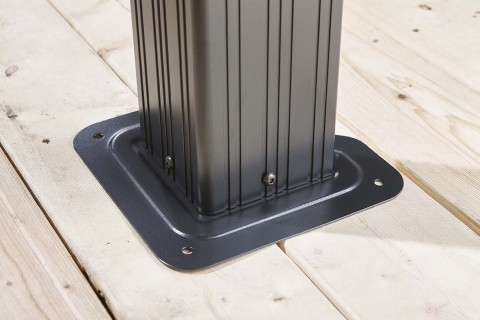 Anchoring base
Our column bases feature brackets with pre-drilled holes allowing the possibility of easily anchoring your shelter to the base of your choice.


Hooks on the ceiling of the Messina 12'x20'


Gazebo Roof Hooks
Extend your outdoor experience into the night by hanging a light on the hook(s) found on the ceiling of your Sojag Gazebo (the number of hooks varies from 1-3 depending on the size of the Messina gazebo).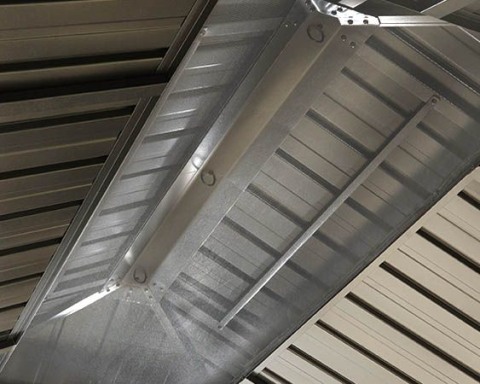 Hooks on the ceiling of the different Messina sizes, except the 12'x20' (from 1 to 2)
Dimensions


MESSINA 10'x10'
Footprint: 113.39'' x 113.39''
Roof Dimensions: 117.32'' x 117.32'' 
Maximum entry headroom: 76.85''
Maximum outside height: 114.76''
Gazebo total weight: 211.64 lbs
MESSINA 10'x12'
Footprint: 113.39'' x 138.98''
Roof Dimensions: 117.32'' x 142.91''
Maximum entry headroom: 76.85''
Maximum outside height: 114.76''
Gazebo total weight: 266.20 lbs
MESSINA 10'x14'
Footprint: 113.39'' x 162.63''
Roof Dimensions: 117.32'' x 166.54''
Maximum entry headroom: 76.85''
Maximum outside height: 114.76''
Gazebo total weight: 304.24 lbs
MESSINA 12'x12'
Footprint: 138.98'' x 138.98''
Roof Dimensions: 142.91'' x 142.91''
Maximum entry headroom: 76.85''
Maximum outside height: 120.91''
Gazebo total weight: 294.31 lbs
MESSINA 12'x14'
Footprint: 138.98 '' x 162.63''
Roof Dimensions: 142.91 '' x 166.54''
Maximum entry headroom: 76.85''
Maximum outside height: 120.91''
Gazebo total weight: 350.00 lbs
MESSINA 12'x16'
Footprint: 138.96'' x 186.22''
Roof Dimensions: 142.91'' x 190.16''
Maximum entry headroom: 76.85''
Maximum outside height: 120.91''
Gazebo total weight: 370.38 lbs
MESSINA 12'x20'
Footprint: 138.98'' x 231.51''
Roof Dimensions: 142.91'' x 235.43''
Maximum entry headroom: 76.85''
Maximum outside height: 120.91''
Gazebo total weight: 440.92 lbs
---
We Also Recommend
---