Yardistry Cedar Gazebo with Aluminium Roof 12 ft. × 10 ft.
Product Details
NOTICE:
Please check with your municipality for permit requirements on this item before purchasing. Municipalities differ in permit requirements and may not accept such structures in your area.
Product details have been supplied by the manufacturer, and are hosted by a third party
Product Details
12' x 10' Wood Gazebo with Aluminum Roof
Create a perfect outdoor room within your backyard space with the Yardistry 12' x 10' Wood Gazebo with an Aluminum Roof.
Dine al fresco, play cards, enjoy an outdoor drink, or just enjoy a quiet moment in the shade. It's the perfect size for sheltering your outdoor furniture. Sturdy, 6" x 7" posts with classic plinths ensure this gazebo will stand tall through the outdoor elements. Stylish curved gussets add to the striking design that is also strong and durable.
Its exterior grade cedar will stand up to the elements and look great for years to come and you can feel good knowing the gazebos are built with 100% FSC® Certified Cedar lumber, which means all the wood comes from responsible and accountable sources employing sustainable forestry practices. The Montana bronze-colored aluminum roof shields everyone below from the scorching summer sun or the occasional unexpected shower.
The 12' x 10' Wood Gazebo with an Aluminum Roof provides a spot of stylish shelter just where you need it. Colored in an attractive mocha brown color stain, all wood sections are pre-cut and pre-drilled for easier assembly. The 12' x 10' Wood Gazebo with an Aluminum Roof comes with simple to follow illustrated instructions and we've created a helpful hints video to make your installation process easier, as well.
Backed by a 5-year Limited Warranty, the 12' x 10' Wood Gazebo with an Aluminum Roof will instantly transform your outdoor space into a sophisticated and modern oasis!
Features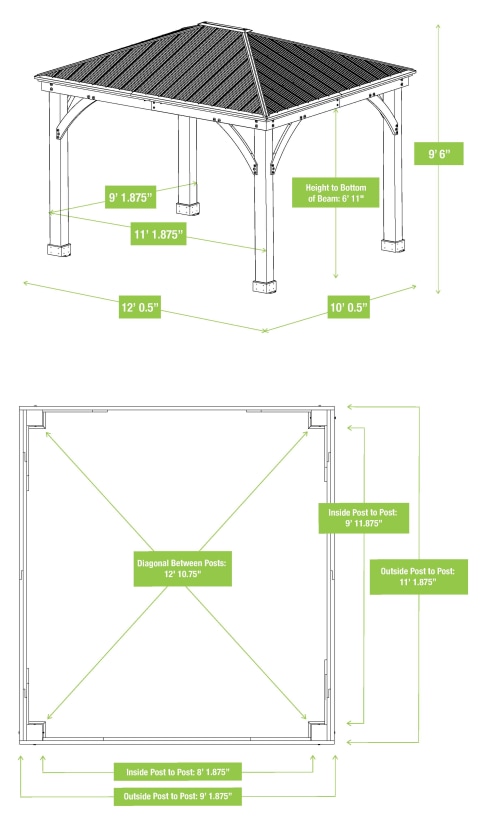 ---
We Also Recommend
---